Choo-Chooooo!! All aboard the blog train to score some awesome freebies from Man in the Moon Designs! Hey everyone and Happy iNSD Eve! :) Hopefully you've just come from
Melissa's blog
, but if not, below is a handy "road map" in case you get a little lost. :)
Ro
http://maninthemoondesigns.blogspot.com/
Kim
http://kimbytx.blogspot.com/
Bree
http://breezybutterflycreations.blogspot.com
Carrin
http://twinderlandscraps.blogspot.com
Melissa
http://justsopeachie.blogspot.com
Kendall
http://majorscrapitude.blogspot.com/
<--- You are here
Cara
http://caraolsondesigns.blogspot.com/
Maria
http://scrapp-ily-ever-after.blogspot.com/
And, just because I know you can't get enough, here's another peek at Ro's super-cute Grab Bag. This kit is so much fun! I just know you're gonna love it.
See, didn't I tell you it was adorable? And did you check out that amazing price?! You get a full kit, template set, and a whole bunch of other goodies for only $3.50. That's just crazy!
Here's
a link to check out the Grab Bag at SM. You can also see examples of pages made with the grab bag, including mine. :) Sooo...who wants FREE stuff??
I've created a set of cute cluster frames just for you: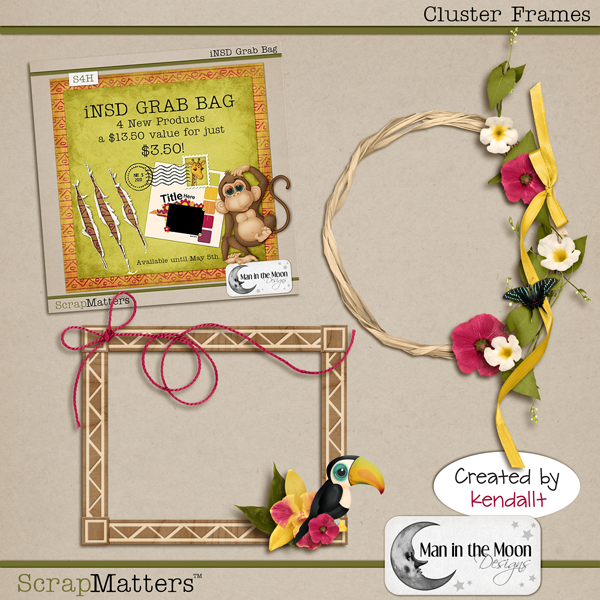 Click
here
to download.
Hope you enjoy! You'll be visiting
Cara's blog
next, and I know she's got some cuteness in store for ya as well. Have a great day, eveyone, and Happy Scrapping!