Hi everyone! Welcome to my very first blog post (Said with the hope that someone eventually will be reading this)! I've decided to start my own scrapping blog so that I can showcase my layouts as well as some of my favorite products. This is something I've been wanting to do for quite some time now, but I'm finally buckling down and making myself do it!
For starters, I have some exciting news to share. Recently, ScrapMatters, my very favorite scrapping site, announced they were holding a CT call. I figured I didn't have much of a shot, especially since I've only been scrapping for a few months, but decided to submit an application anyway. Well, lo and behold, I landed a guest spot for the month of June!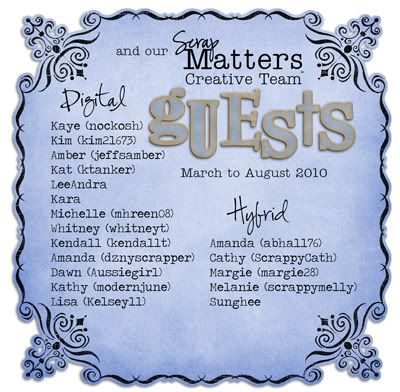 Look, there's my name! I'm so excited and still a bit shocked. There were about 130 applications, so to have been chosen out of such a strong and talented field--even for a guest spot--is such an honor. I don't have a lot of other details at this point and probably won't know much more until closer to June, but I'll be sure to come back and update whenever the time comes.
My second piece of news also involved being selected for a CT. The fabulous and sweet Sarah Bennett announced a few weeks ago that she'd be permanently staying on at SM as a designer. So, she decided to hold a CT call, and I was chosen to be a part of the team.
See, there's my name again! Again, I am so excited and honored to have been selected. I've already started getting to know my way around Sarah's CT forum and interacting with the other girls on the team. I think we're going to have a blast! Sarah is re-releasing some of her old stuff from her former Funky Playground Designs shop, so look for that on Friday. Also, there's a fabulous new kit that you are going to love! It's full of fun and cheer, and I can't wait to show it off on Friday.
Well, that's all I have for now. Come back on Friday to check out both Sarah's new kit and her awesome re-releases. Can't wait to show you my pages!